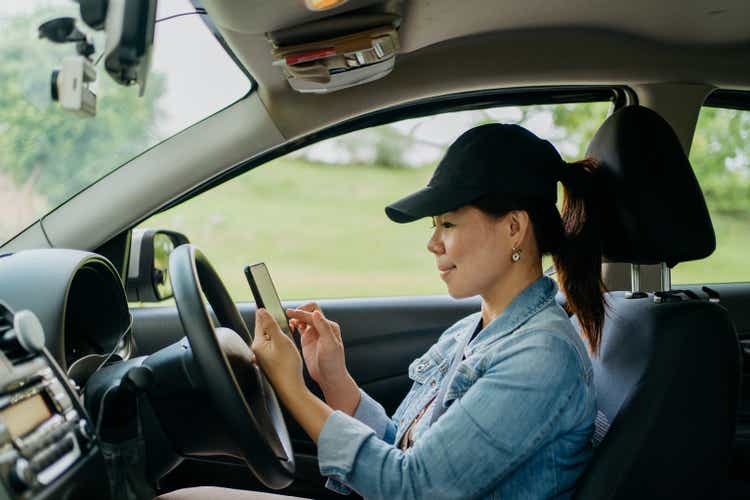 Uber (NYSE:UBER) might not be the first stock you'd think of buying in a rising interest rate environment. But the company has greatly rationalized its cost structure coming out of the pandemic as it is now benefiting from both solid profit margins and a sustained recovery from the pandemic. There are also signs that UBER is winning the rideshare market against smaller competitor Lyft (LYFT), likely due to the company's diversified business model courtesy of its food delivery operations. As UBER marches towards its medium-term financial targets, I can see the stock rising as investors come to appreciate what is quickly becoming a solid compounding story.
UBER Stock Price
In spite of being a radically different company from a financial standpoint, UBER stock still trades well below where it did when it came public in 2019.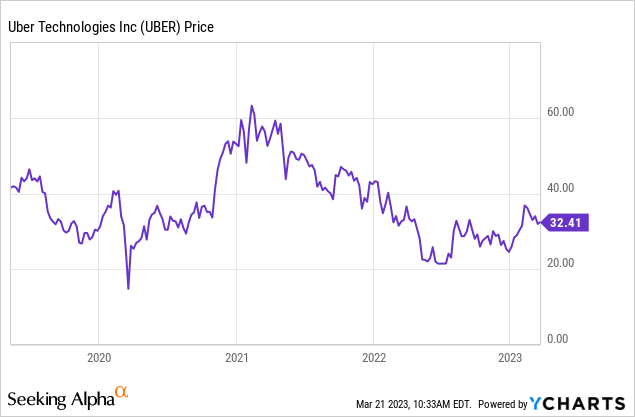 I last covered UBER in December where I rated the stock a buy on account of its ongoing progress towards its medium-term targets. The stock has since returned 33%, largely due to a recovery in valuations in the broader tech sector. I still see more upside ahead as Wall Street is still not giving the company credit for the improved profitability and sustained secular growth.
UBER Stock Key Metrics
This most recent quarter was very significant as it marked a complete recovery from the pandemic, with monthly active consumers and drivers being at all-time highs.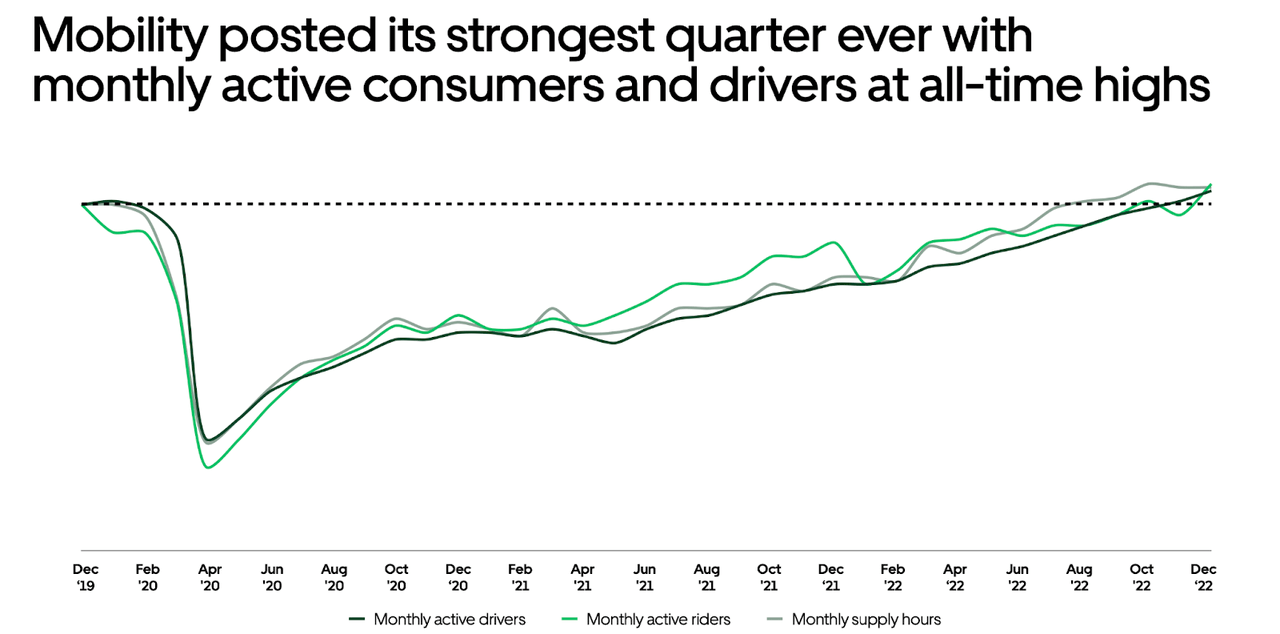 Revenue grew at a 49% clip (59% constant currency).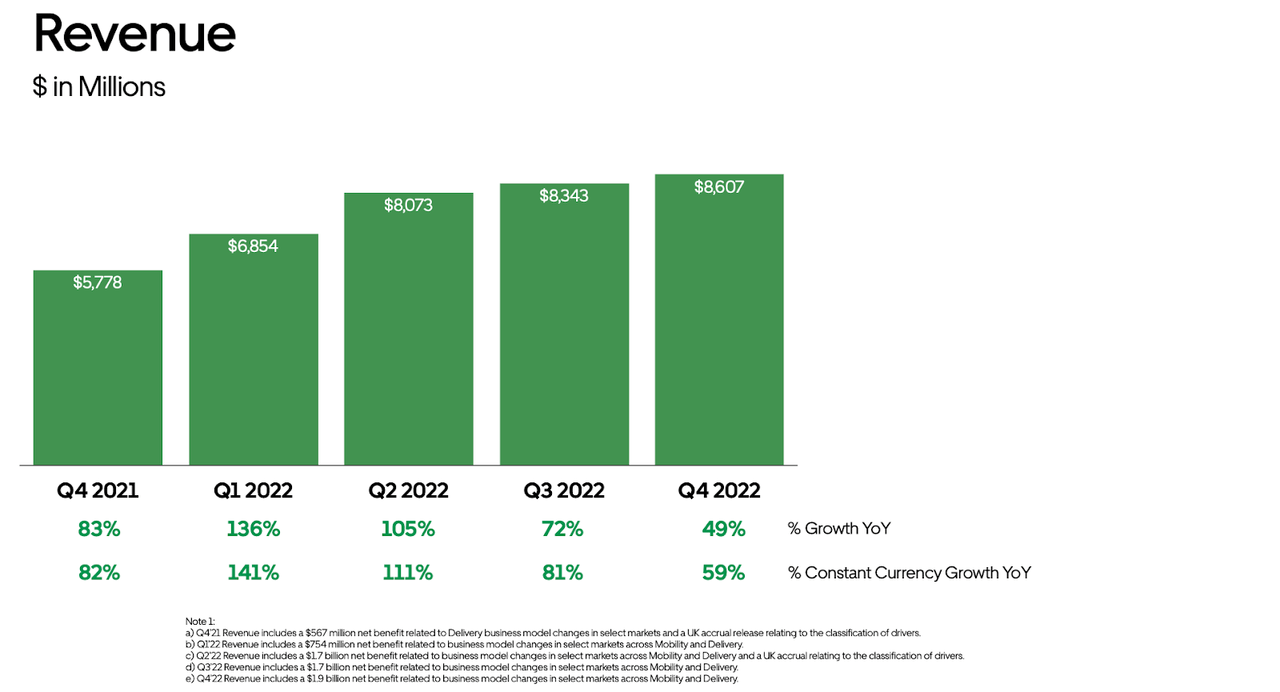 I note that to get a better understanding of "true" YOY growth rates, we must adjust for the UK business model changes. Those business model changes changed the way UBER accounted for revenue and cost of goods sold because drivers are now treated as workers instead of contractors. Adjusting for those business model changes, revenue grew at a robust 28.6%.
Meanwhile, adjusted EBITDA margins continued to expand, growing to 2.2% of gross bookings.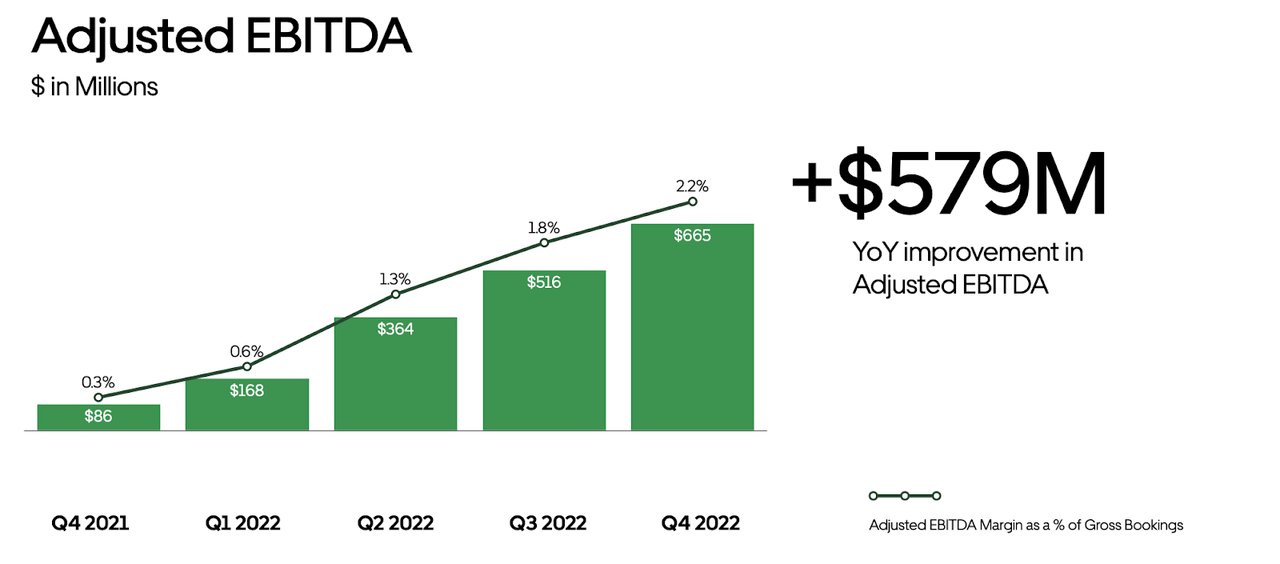 Some readers may be surprised to see solid profit margins at UBER, but it is important to remember that amidst a complete slowdown in ridesharing demand in the pandemic, UBER was forced to rationalize its cost structure just to remain financially solvent. The company is now reaping the benefits from that cost rationalization and management is guiding for GAAP profitability in 2023 (note that this guidance is based on reaching GAAP profitability in a quarter during 2023 and not necessarily for the full-year).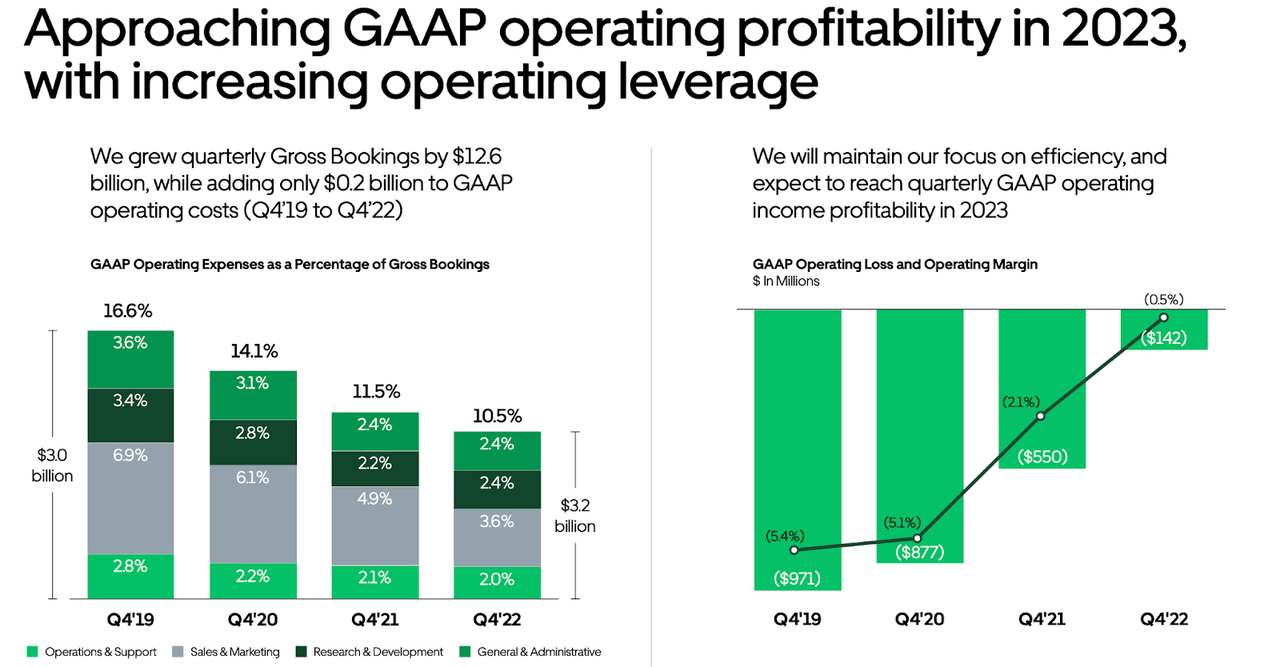 UBER saw strong growth in ridesharing, with revenue growing 30% (after adjusting for business model changes).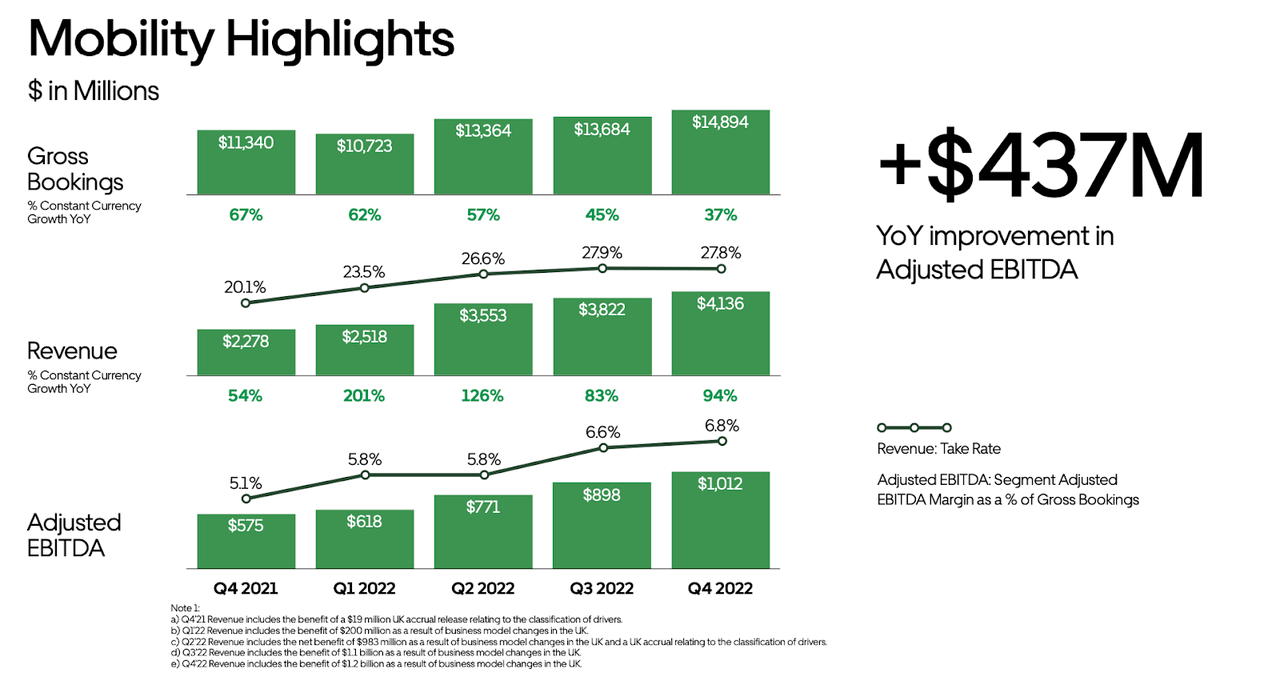 You can see a breakdown of how the business model change impacted both revenue and cost of revenue below.

Even as the company lapped tough pandemic comps, delivery revenue still grew by 18% YOY (adjusted for business model changes). UBER has been steadily increasing delivery profit margins, with adjusted EBITDA margins expanding to 1.7% in the quarter (as a percentage of gross bookings).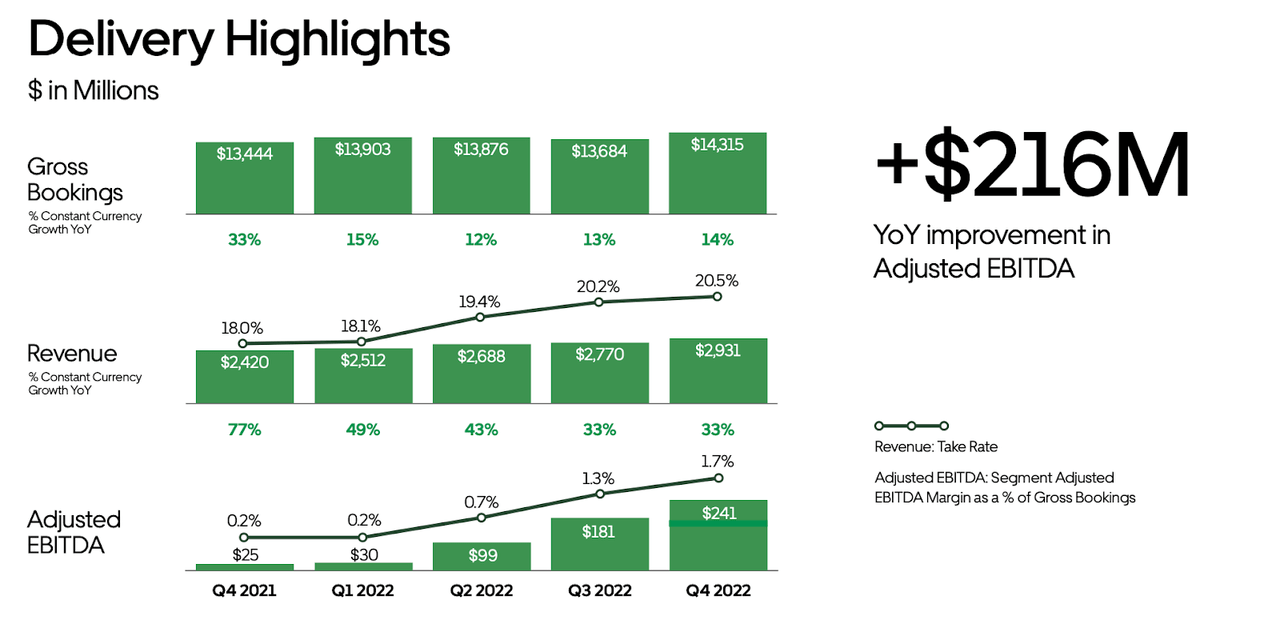 UBER ended the quarter with $4.3 billion in cash, $5.2 billion in equity investments, and $9.3 billion of debt. Given the company's improving cash flow position, I view this balance sheet to be sufficiently solid.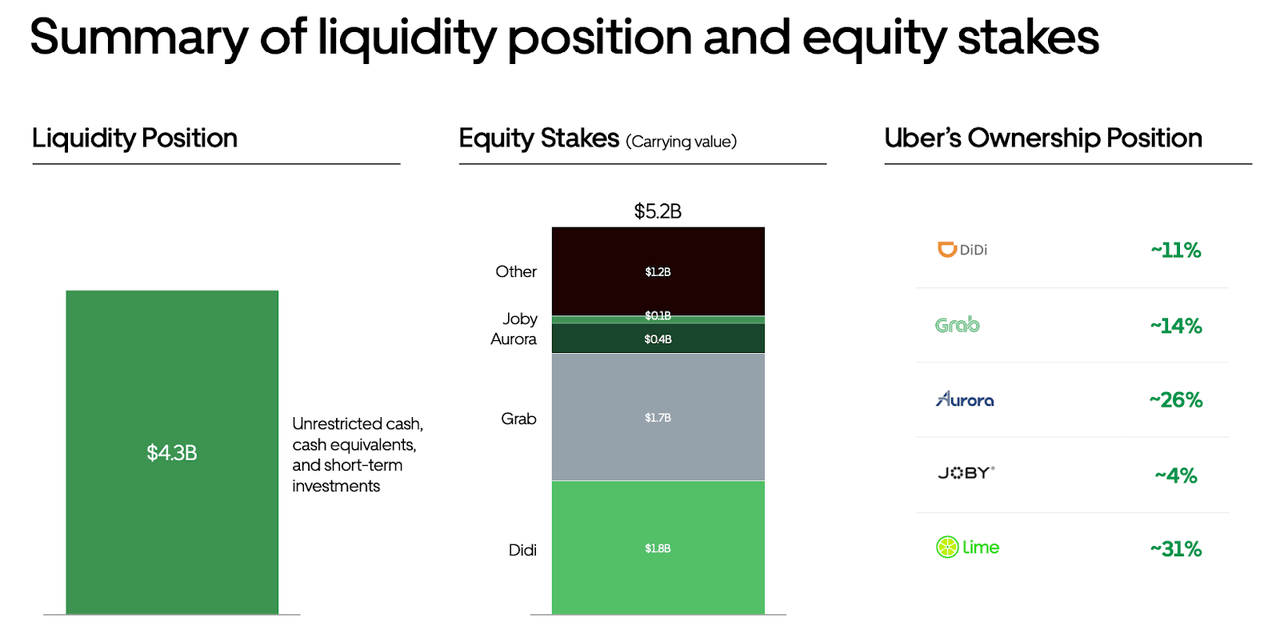 Looking ahead, UBER gave strong guidance, with gross bookings expected to grow by 20% to 24% YOY on a constant currency basis in the first quarter. Currency fluctuations are expected to pose a 3% headwind. Adjusted EBITDA is expected to remain solid at between $660 million to $700 million.
On the conference call, management added that their 2024 $1 billion in advertising revenue target remains intact, and that they "are progressing very, very well against that target."
Is UBER Stock A Buy, Sell, or Hold?
UBER remains a compelling investment on the rise of the gig economy, specifically as it relates to the delivery of food and people. Ridesharing penetration remains surprisingly low, especially in the United States. That is a promising realization considering that UBER is already making serious inroads on profitability.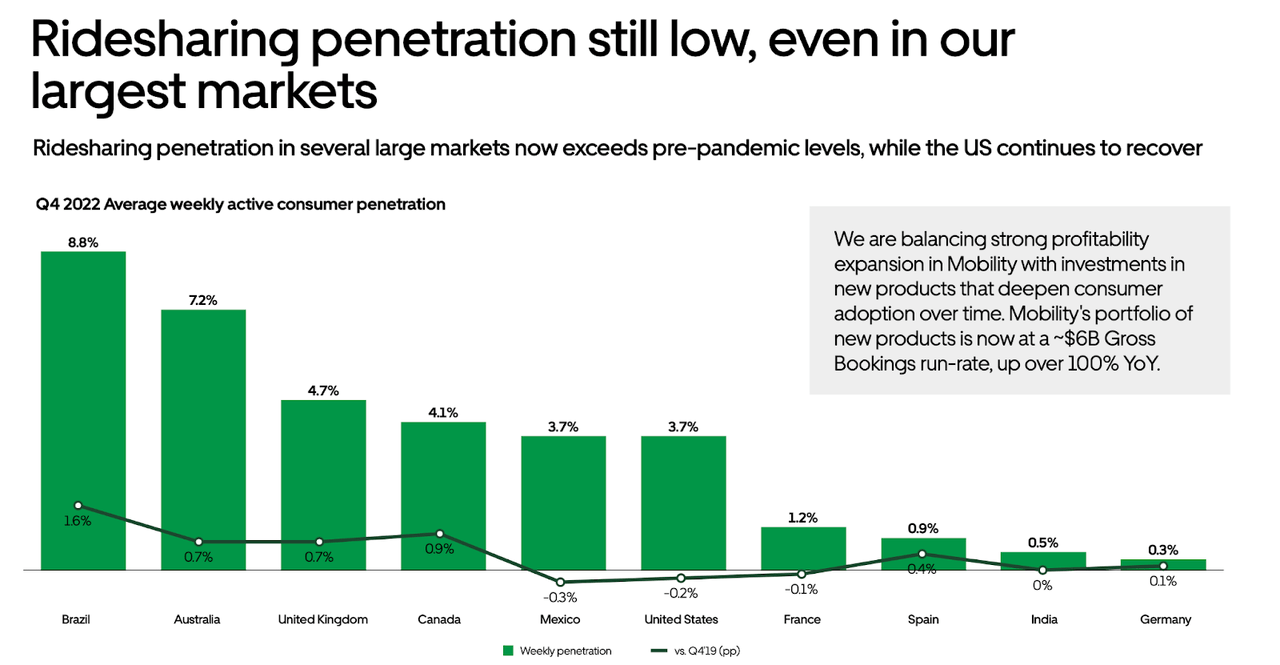 Meanwhile, UBER continues to diversify its revenue streams through both its subscription membership and advertising revenue channels.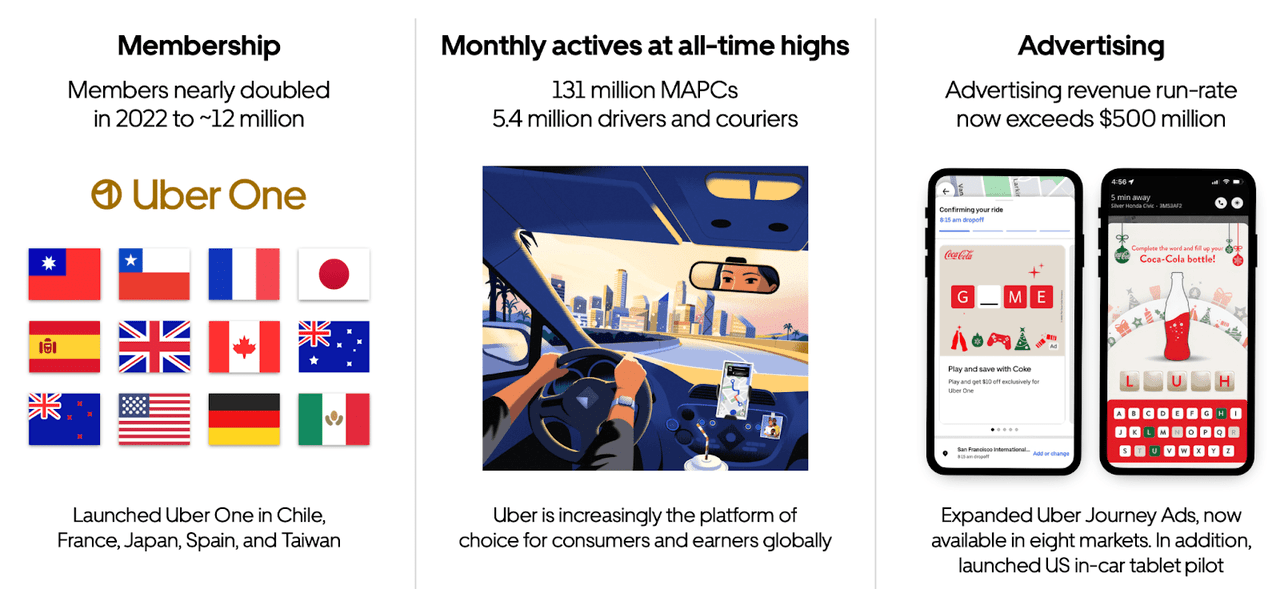 UBER had previously guided towards $5 billion in adjusted EBITDA in 2024.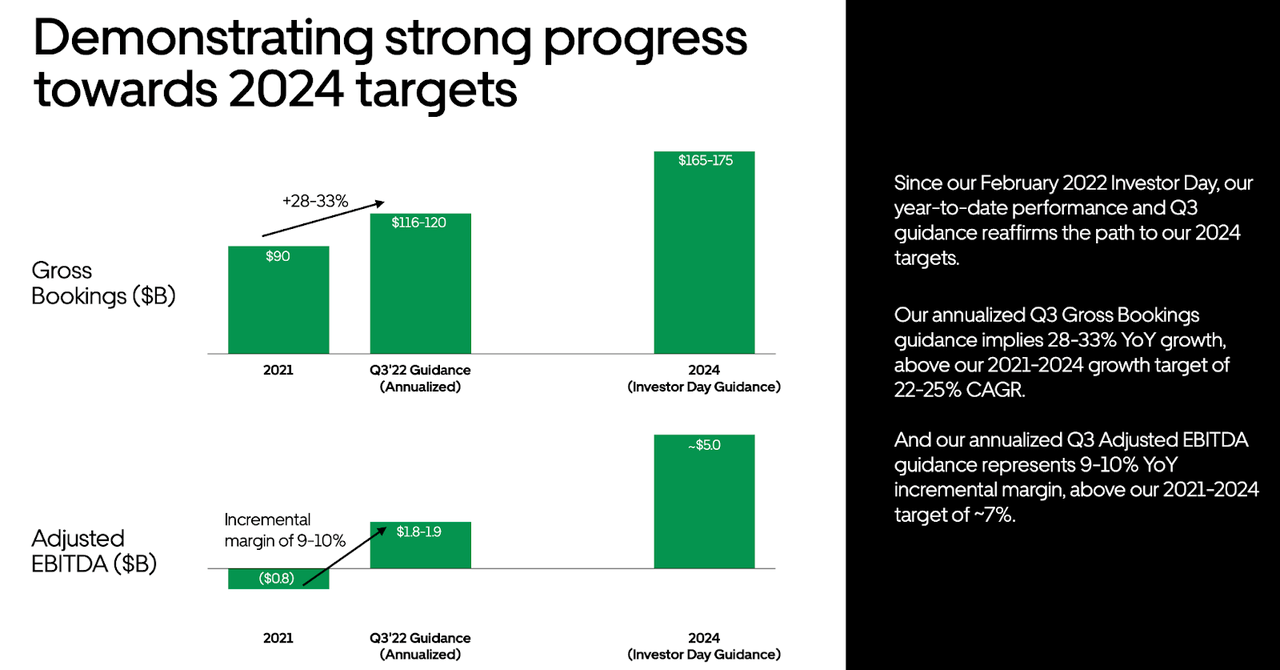 Given how well UBER is growing adjusted EBITDA even in the current macro environment, I would say that my confidence in the company's ability to hit that target remains high. I expect this year to see solid growth especially considering the company's partnership with Capital One (COF) to offer 10% cashback on Uber and Uber Eats.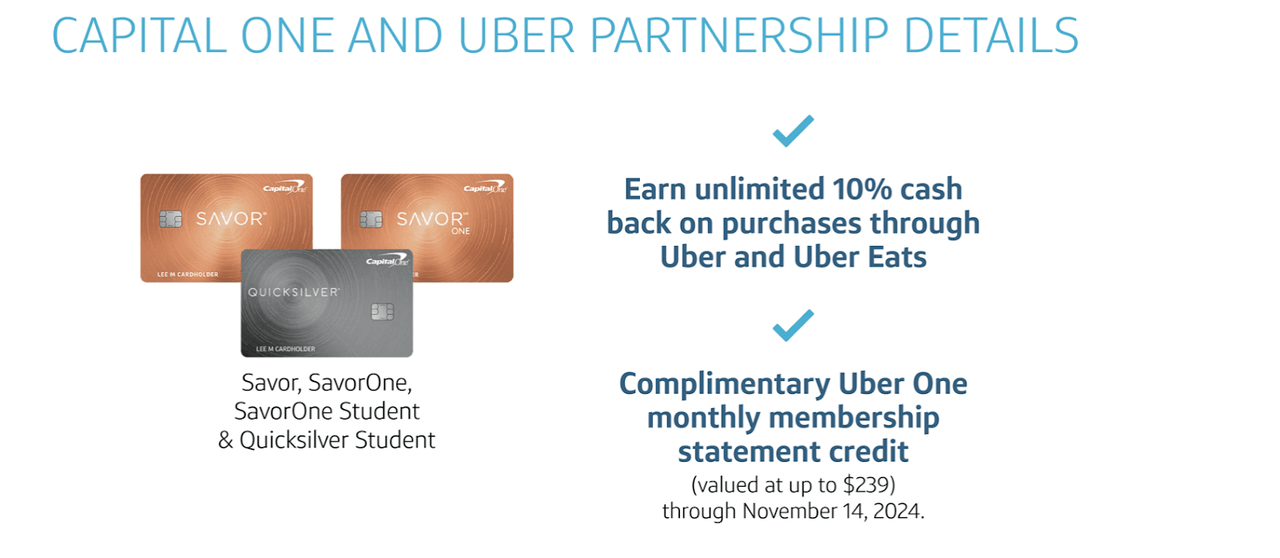 UBER is trading just under 2x sales, a cheap valuation considering consensus estimates call for sustained double-digit growth for years to come.

Based on 20% long term net margins, a 1.5x price to earnings growth ratio ('PEG ratio'), and 15% growth, I can see UBER trading at 4.5x sales, representing strong upside over the coming years.
What are the key risks? For starters, competition remains fierce. DoorDash (DASH) and Lyft remain formidable competitors in delivery and mobility, respectively. It is possible that these companies compete too aggressively on price, as these are arguably commoditized services. The hope is that UBER's large network of merchants and drivers may help it to deliver superior service, though anecdotally I have not found that to be the case. I previously mentioned the Capital One partnership. The 10% cash back is a very expensive deal and may not be sustainable longer term. It is possible that UBER may see increased churn once that deal expires. Finally, the long term risk is that of government regulation. UBER has long been in the crosshairs of politicians who do not appreciate the gig economy framework. It is possible that UBER may have to reclassify all of its employees as workers, at which point it may need to increase prices to offset increased costs, which may reduce consumer demand for its services. As discussed with subscribers to Best of Breed Growth Stocks, I prefer a portfolio of undervalued tech stocks to position for a recovery in tech sector valuations. UBER fits right in with such a portfolio, as I can see great multiple expansion potential ahead as Wall Street comes to appreciate the great strides in margin expansion taking place at the company.