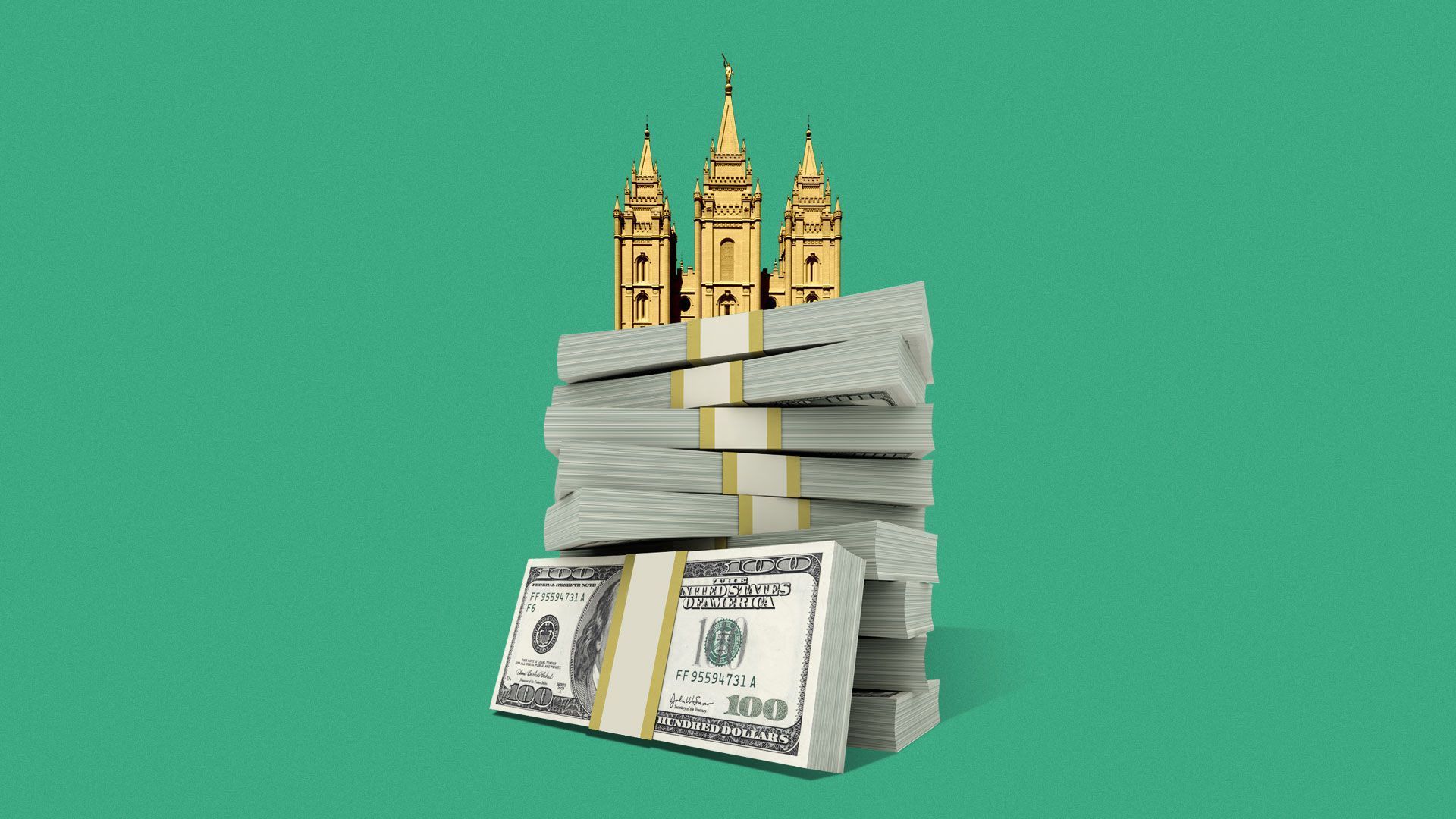 Illustration: Eniola Odetunde/Axios
The Church of Jesus Christ of Latter-day Saints and its investment arm are paying $5 million in fines for creating shell companies to hide their holdings from the public.
Why it matters: The church has long been scrutinized by members and nonmembers for secrecy about its vast wealth, estimated to exceed $100 billion.
"The Church was concerned that disclosure of its portfolio, which by 2018 grew to approximately $32 billion, would lead to negative consequences," the U.S. Securities and Exchange Commission wrote in an order announced Tuesday.
State of play: Ensign Peak Advisors — which the church created to manage its investments — filed its legally required public disclosures via 13 shell companies it set up to avoid filing itself, which would make its full investments public, according to the SEC news statement.
The shell companies were created "with the Church's knowledge and approval," the SEC wrote.
Ensign Peak failed to file its own disclosures for more than 20 years, from 1997 to 2019, the SEC wrote.
How it works: Ensign Peak filed financial disclosures in those shell companies' names and claimed they operated under their own control, even though Ensign Peak controlled all investment and voting decisions, per the SEC.
The nonprofit investment company also "directed nominee 'business managers,' most of whom were employed by the Church, to sign [the filings]," the SEC wrote.
The other side: In a prepared statement Tuesday morning, church officials said Ensign Peak acted on "legal counsel regarding how to comply with its reporting obligations while attempting to maintain the privacy of the portfolio."
Yes, but: The church did not say why "maintaining the privacy of the portfolio" was important or address the "negative consequences" the SEC said might come from disclosing its equity investments.
Details: The church said it stopped filing its disclosures through shell companies after the SEC "first expressed concern" in June 2019.
"Ensign Peak and the Church have cooperated with the government over a period of time as we sought resolution," church officials wrote.
What they're saying: "We affirm our commitment to comply with the law, regret mistakes made, and now consider this matter closed," the church wrote.