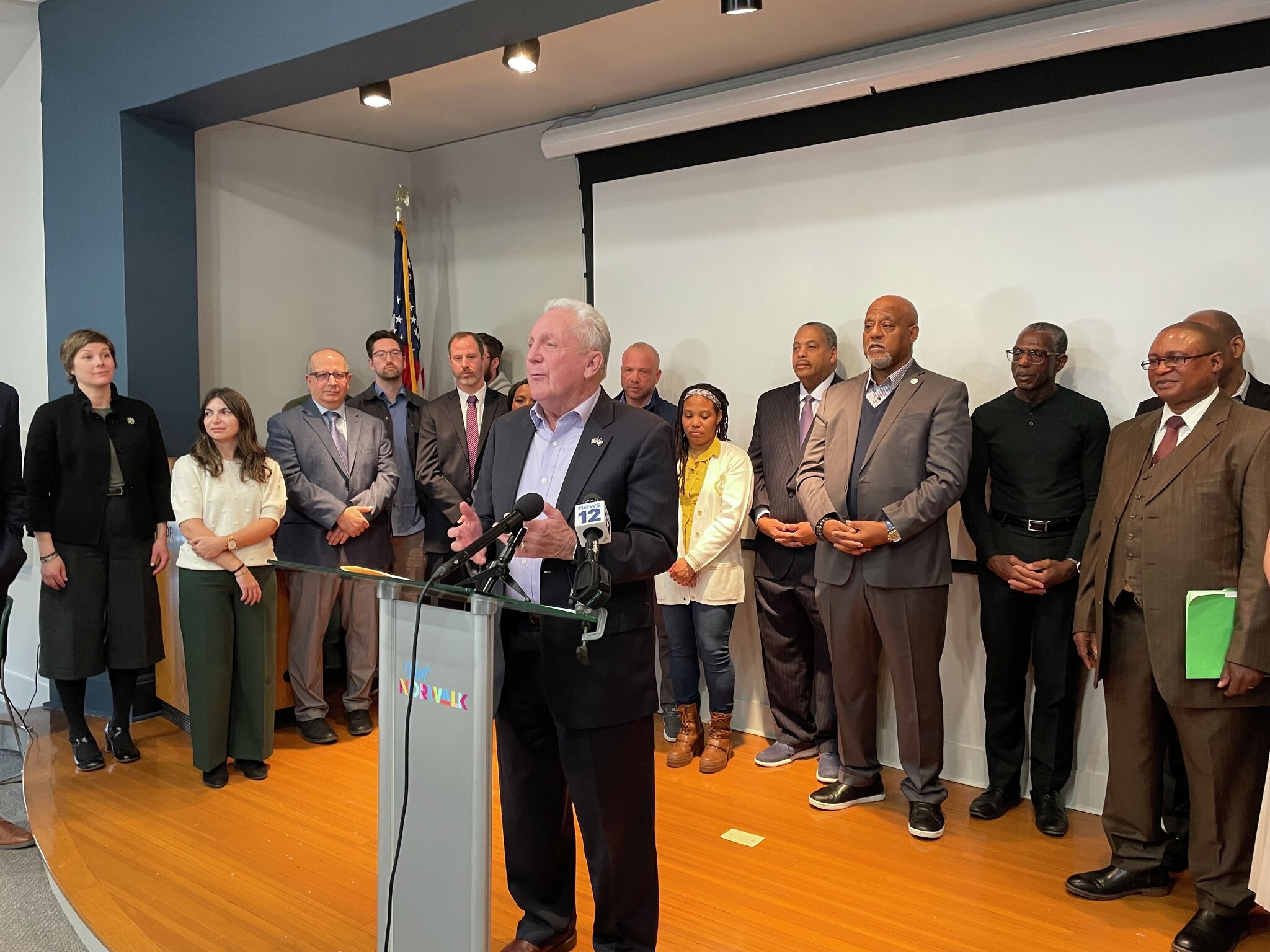 The MLK Corridor Initiative Residential Improvement Programs will include $1.25 million in funding to improve homes in the South Norwalk area, specifically on the MLK Drive corridor. Local and state officials held a press conference Wednesday morning at the South Norwalk Library to announce the new phase of the program, which residents can apply for on the Norwalk Redevelopment Agency's website.
"In Norwalk, we are not leaving behind neighborhoods," said state Sen. Bob Duff, D-Norwalk. "We are in fact investing in neighborhoods, we are investing in people, investing in their homes, investing in businesses. We are saying that even though you may not be on streets that a lot of people know if they don't live here like Washington Street or North Main Street, that we still want to invest in areas to fix up homes, to make sure that people have the ability to live in a place that they are proud of."
The money will be spread across two programs — the Residential Facade Improvement program, which will help improve the physical appearance of properties in the neighborhood, and the Low-Income Improvement Loan Program, which will provide low-interest loans to families to help them enhance their homes.
The $1.25 million allocation is just the latest step in the project, which has been in the works for several years. Leaders have identified 150 projects in the South Norwalk area, including residential improvements and improvements to infrastructure and public transit.
"Things don't happen in a vacuum. They happen because of people coming together for a cause," Norwalk Mayor Harry Rilling said. "It's investing in a neighborhood so people can be proud, people can safe and we can make a difference."
Norwalk Common Council Majority Leader Darlene Young said the investment in the MLK corridor can have a last impact on the area and surrounding region.
"We do it because we care," she said. "And I think we are a shining example throughout the state of what investing in people looks like. And I hope that others can use this as a model…I hope that the residents in Norwalk take advantage of this and understand, we don't always get things right, but I think we did right here."
The city has already spent about $1.45 million in the past five years on improvements to the facades of 30 homes, officials said, and plan to work on 30 more homes with the new funding. Homeowners who apply and are accepted to the program are set up with a contractor by the city and do not have to pay out-of-pocket for the home improvements.
"Norwalk gets it right where a lot of other municipalities across this country get it wrong," Duff said. "We have the fortune in Norwalk to be one of the fastest growing municipalities in the state of Connecticut. People want to move here because of all our great amenities, because of our location close to New York City, being on Long Island Sound, all those things are really positive.
"But where it gets a little tricky sometimes is that so many people want to move in that sometimes you leave behind other neighborhoods in the redevelopment process."
Jonah.Dylan@hearstmediact.com, @TheJonahDylan