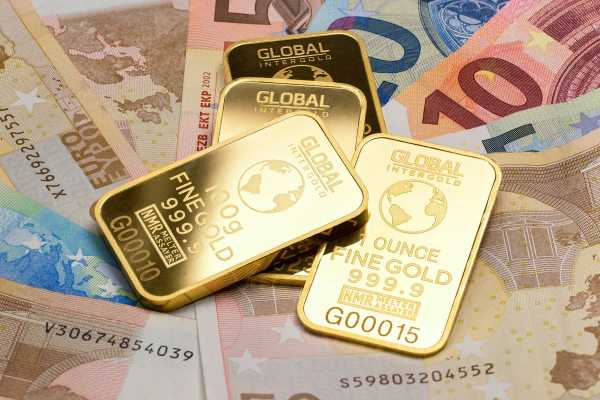 Gold dips to a new pullback low of 1,934 on Wednesday to complete a 38.2% Fibonacci retracement of the prior uptrend. In Fibonacci analysis the 38.2% retracement of the prior trend is the minimum normal retracement in a trend before support is seen and a continuation higher might occur. It is common in strong trending markets to see a reversal in the direction of the trend around the 38.2% retracement or before it is reached. Reaching it just tells us to be on the lookout for a potential bullish reversal signal.
Similarity Between First and Current Rally
A similar situation occurred following the first leg up off the bottom in early-November (1). That rally saw gold advance as much as 10.5% and it was strong enough to get above the 200-Day EMA (blue) for the first time in about five months. There is a degree of symmetry or similarity between that first definitive rally off the bottom and the most recent (2) as it topped after advancing 11.0%. Moreover, there is only price symmetry showing but also time symmetry. Each advance covered eight days.
As we continue to explore the two advances another relationship becomes apparent. This first retracement reversed off support around the 38.2% Fibonacci retracement area after falling 3.5%. The current pullback has stopped at the 38.2% level, at least so far, and has dropped 3.8% off the most recent high. Again, similar moves. The only difference seems to be that the pullback low on the first leg also met support of the 21-Day EMA (orange), while currently that moving average is a bit lower, now at 1,896.
What Might This Analysis Be Telling Us?
There is always more than one way to interpret analysis but are a couple things that stand out. First, it is possible that the current retracement to the 38.2% retracement. If a bullish trigger occurs, relative to your strategy and risk management procedures, it might happen off the 1,934 low. Otherwise, keep an eye on the 21-Day EMA support as that line was reached during the similar first leg up.
For a look at all of today's economic events, check out our economic calendar.