Many outdoor skating rinks across the West Island are closed due to fluctuating weather conditions.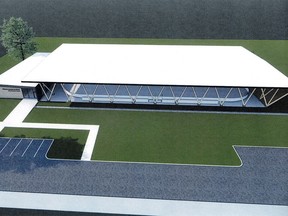 Article content
With many outdoor skating rinks across the West Island closed due to fluctuating weather conditions, Dorval's plan to build an $8 million outdoor refrigerated rink is a sound infrastructure investment, says Mayor Marc Doret.
Article content
"It's very challenging because from year to year the (weather) is different. We have more snow this year, but the weather is crazy. Our skating rink at Pine Beach has been operational for maybe three weeks this winter."
Doret said the outdoor skating path near the Dorval Library, which proved popular with residents last year, has yet to open this winter due to weather conditions.
"We have three other major rinks that are slightly operational but in poor condition," he added.
Dorval is not the only West Island city struggling to maintain its outdoor rinks this winter.
In Pointe-Claire, only one of the city's nine natural outdoor rinks were open as of Tuesday, according to the city's website.
Article content
However, both of the city's two refrigerated  rinks — Valois Park and a smaller rink in the Pointe-Claire Village — remain open.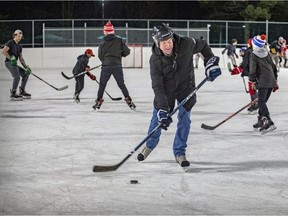 Doret said the best argument for building a refrigerated rink is that it will be open for skating activities approximately five months a year, from November to March.
The new facility will be located near Edgar Rouleau Arena on Dawson Ave. It will be built according to standard National Hockey League rink dimensions of 200 feet in length and 85 feet in width. It will also have its own ice resurfacing machine, making for ideal skating conditions.
When the ice melts, the refrigerated rink will be converted into a multipurpose play surface the rest of the year. The four-season recreational structure will also be equipped with locker and storage rooms.
Article content
Doret acknowledged there are some residents who have expressed concerns about a new neighbourhood rink.
"We're working on offering changes to our plan to minimize the impact, but the issue has become not-in-my-backyard. That's where we're at," he said.
Doret said the city will try to address the concerns of nearby residents on Thorncrest Ave. "We're discussing making a berm between the rink and their properties, with trees and bushes, so that it creates a bit of a sound wall."
He said the orientation of the site has also been changed. "Originally, it was north-south, but we've made it east-west."
Doret said the rink will have a sound-absorbing wall on its western side to minimize noise for local residents. "It will also have a very low roof, again to (minimize) light. We've  incorporated a lot of changes."
Article content
He said he city is also looking at building the facility "a little further away from the houses than we had in the original plans."
Doret also hopes to reduce the rink's hefty $8 million price tag.  "We feel the $8 milllion we budgeted is at the high end, but we're expecting something a little lower. We'll know the details in a few weeks."
Doret said refrigerated rinks could become the norm for Montreal suburbs in the future.
"We could be in a position in five or 10 years when there is no such thing as an outdoor rink, unless it's refrigerated. I don't know where climate change is going but it's very possible it just becomes too hard to manage.
"It takes a lot of effort and equipment, and if it's only going to be open two weeks, is it possible or not?"