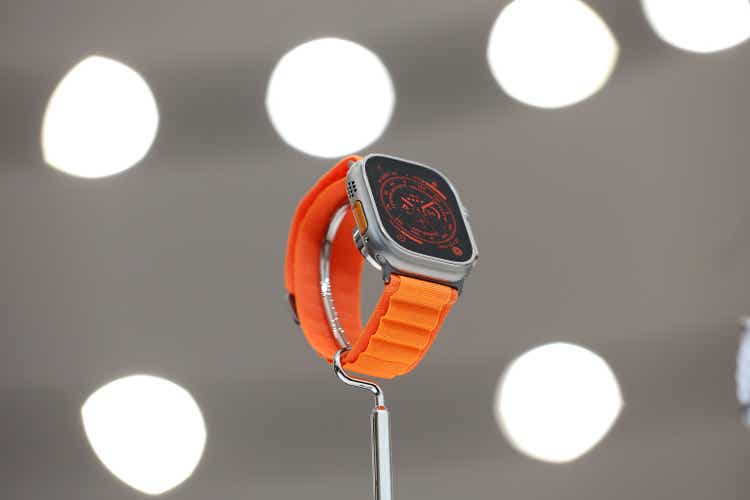 The Biden Administration said on Tuesday it would not overrule a ruling from the U.S. International Trade Commission that could block imports of the Apple (NASDAQ:AAPL) Watch after the ITC said the device infringed upon patents from medical technology company AliveCor.
A spokesperson for the U.S. Trade Representative's office told The Hill that the decision was made by U.S. Trade Representative Katherine Tai.
Cupertino, California-based Apple (AAPL) said it would appeal the ITC's import ban, according to Reuters.
Apple (AAPL) shares fell fractionally in premarket trading on Wednesday.
In December, the ITC ruled that the tech giant infringed on patents held by privately-held AliveCor regarding the electrocardiogram function on its Apple Watch.
As a result of the ITC's decision, imports of the Apple Watch could be banned, but the agency said it would not enforce the ban until appeals were finished.
AliveCor accused Apple (AAPL) of violating three patents from its KardiaBand and that the tech giant copied the technology and made it incompatible with watchOS. The company also sued Apple (AAPL) in California court for supposedly monopolizing the U.S. market for Apple Watch apps, Reuters added.
Conversely, Apple (AAPL) countersued AliveCor in San Francisco federal court for allegedly impinging upon its own patents.
Any ban, however, is still in flux as Apple (AAPL) and AliveCor battle one another over patents.
The ITC's ruling is in contrast to a decision that the U.S. Patent and Trademark Office made in December after it said AliveCor's patents pertaining to heart monitoring technologies for wearable devices were "unpatentable."
Apple Watch Series 4, 5, 6, 7 and 8 all contain the electrocardiogram functionality.
A group of Democratic lawmakers asked the ITC in October not to ban imports of the Apple Watch even if it ruled for AliveCor, noting that it could have a potentially negative impact on public health.
It was recently reported that Apple's (AAPL) widely anticipated mixed-reality headset will be announced in June, two months later than previously anticipated.