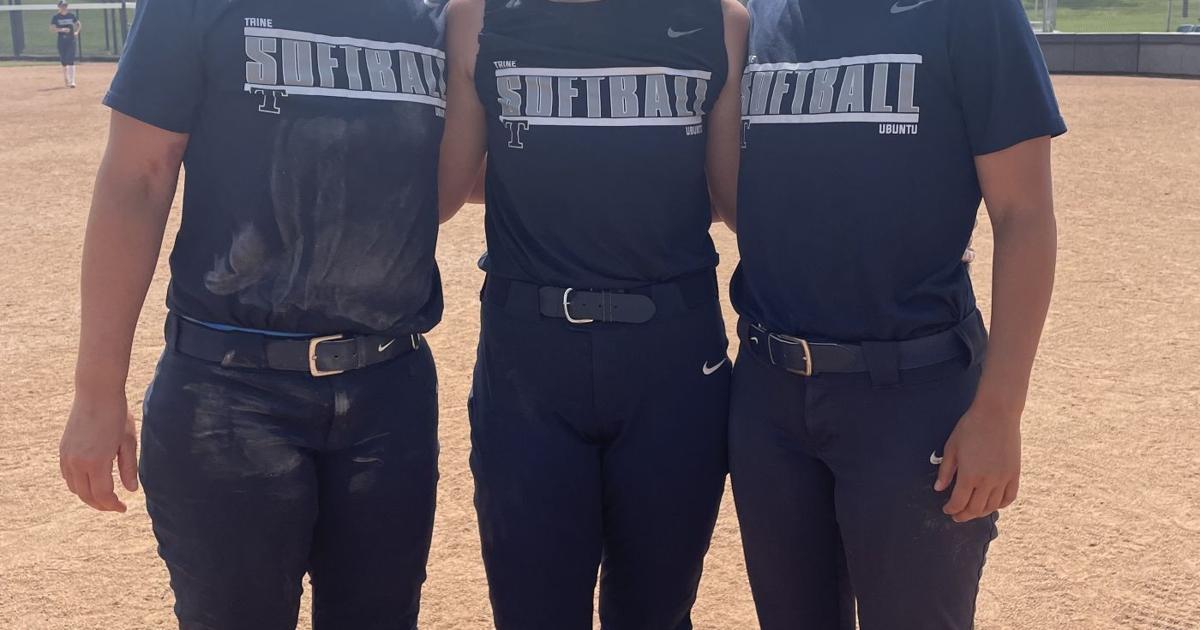 ANGOLA — It's not how you start, it's how you finish.
That's a mantra Trine University softball coach Donnie Danklefsen and his staff stress to their players all the time.
For three Thunder players in 2023, that phase has special meaning.
The trio — graduate students Cassie Woods and Carolyn Biel and junior Alexis Michon — became familiar with the Trine softball program when they faced the Thunder in the 2022 NCAA Division III World Series while playing for Eastern Connecticut State University.
This season, the trio transferred to Trine, where all have been huge parts of Trine's latest success. The Thunder host Concordia University (Wis.) in a super regional this weekend.
Woods said she and Biel, as graduate students, were looking for new opportunities to finish out their masters degrees, and with eligibility remaining, transferring seemed like a good option.
Enter Trine.
Woods said she observed the Trine coaches and players during the Division III World Series and liked how they conducted themselves. "They beat us in extra innings, and they were very passionate about it," Woods said with a smile.
That was in a May 26, 2022, game — the opener of the series for both teams — won by Trine 4-2 in eight innings.
After the season, Woods and Biel reached out to Trine coaches and the transfer process got under way.
Taking a big step
Woods and Biel are both pursuing advanced degrees. Woods has a master's in accounting and is pursuing an additional master's in organizational leadership, while Biel is also pursuing the organizational leadership track.
"I still wanted to play softball," Woods said.
Woods feels pretty good about her choice to come to Trine. "The atmosphere is more competitive here," she said. "I'm very fortunate to be part of the dynamic here."
Woods has a job lined up in Boston and will finish her Trine classes online. Biel is also working on her post-graduate degree in organizational leadership and was looking for a chance to get her master's more quickly and still play softball for another year.
Woods said the process of adjusting to a new conference has been fun, as well as making new friends. She and Biel were very close and started looking for schools to transfer to together.
"She had mentioned Trine," Biel said. "I was willing to take a step, learn something new from a new coaching staff."
All three players have found a more rigorous, challenging softball program in the Thunder.
"I've definitely gotten in the best shape of my life," Biel said. "It makes it that much more fulfilling when you know you've worked hard both on and off the field."
Biel said she wants to eventually go into coaching, so working with Thunder assistant coach Dennis Smith has been a blessing.
"The coaching staff has pushed us pretty hard," Biel said. "I've learned a lot from Coach Smith, catching bullpens and just talking with him … I've been really happy here and it's been a really great experience."
Biel is just starting her master's program and has another year of eligibility due to the extra COVID-19 year that was offered by the NCAA.
The decision on whether to play another year at Trine is one for "Future Carolyn," Biel said. "Right now I'm focused on the super regional."
Sealing the deal
The trio attended Trine's homecoming football game in the fall — where the 2022 Thunder softball game was honored for its national runner-up run at last year's Division III World Series.
"We got to cheer them on," Woods said. "We clapped for them, even though they steamrolled us to get there (to the national championship game)."
Woods said she and her two Eastern Connecticut teammates bonded with the Trine players during the trip.
"Then we came here and the rest is history," Woods said.
There were no hard feelings from their former teammates at Eastern Connecticut State, Biel said.
"Those girls are my friends for life." Biel said. "Now I have some new friends for life. That's what softball is all about."
The move has been a win-win for all both on and off the field. Woods, an outfielder, is one of the Thunder's leading hitters, batting .416 with 27 runs batted in.
Biel, a catcher, has seen action in 21 games, batting .333 with two RBIs.
And Michon, the 2022 Division III Pitcher of the Year from the National Fastpitch Coaches Association, has been dominant in both starting and relief roles for Trine. Michon is 10-1 with a 1.45 earned run average, five saves and 99 strikeouts.
Michon, a junior education major, had already left Eastern and decided she was transferring. "I didn't have a home for softball in the fall," Michon said. A changing team dynamic led her to look to transfer.
That changed with a phone conversation with Woods.
"Cassie just said, 'Come to Trine with us,' " Michon said.
Michon quickly agreed, not realizing that her teammate had made the suggestion jokingly.
"Cassie said, 'Are you being serious?'" Michon recalled. "I said, 'Yes, let's go.' "
Michon also feels very good about her decision to come to Angola. "I've learned a lot here, and people here have helped me come out of my shell," she said. "I can be kind of shy and sensitive."
Whatever the future holds for the Thunder transfer trio can wait. Like their teammates, their eyes are laser-focused on the prize in front of them. Not just getting back to the Division III World Series, but winning it.
Getting to the World Series last year at Eastern Connecticut State made all three players hungry for a repeat, Woods said.
"We know what the experience holds," Woods said. "We're excited to share it with a new group of people we know deserve it."