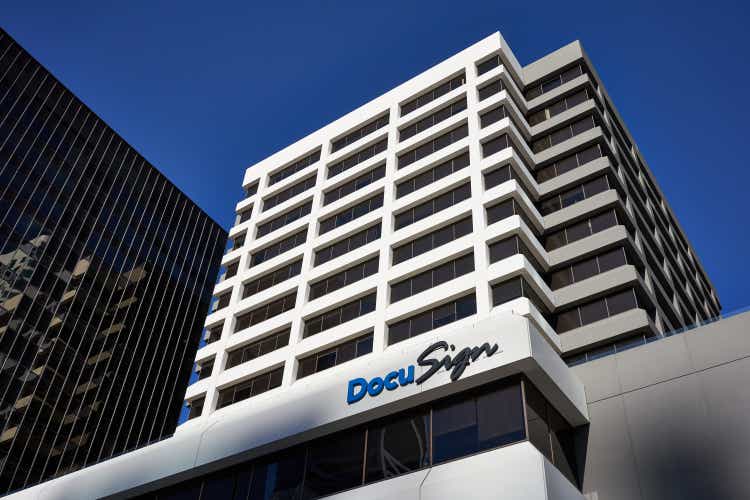 DocuSign (NASDAQ:DOCU) shares fell nearly 14% in premarket trading on Friday as Wall Street analysts expressed concern over the company's transition to a new CFO and the electronic signature company's billings outlook.
Wells Fargo analyst Michael Turrin, who has an equal weight rating on DocuSign (DOCU) and a per-share price target of $65, suggested that while the outlook was "mostly maintained," a new CFO and billings guidance of just 2% year-over-year growth for fiscal 2024 "suggest challenges are still ahead."
Turrin also noted that DocuSign (DOCU) only added CEO Allan Thygesen in September, as well as a new COO in January, "suggesting recent [organization/go-to-market] changes likely take time to stick."
Looking ahead, DocuSign (DOCU) said it expects first-quarter sales to be between $639M and $643M, with the mid-point slightly above the $640.9M analysts were expecting.
The company also announced several executive changes, notably CFO Cynthia Gaylor saying she would step down from the role later this year, despite only joining in September 2020.
DocuSign (DOCU) also said Robert Chatwani is joining the company as President & General Manager of Growth and Anwer Akram is its new Chief Operating Officer.
RBC Capital Markets analyst Rishi Jaluri, who has a market perform rating on DocuSign (DOCU), called the results "mixed," as the fourth-quarter results were strong but the guidance was "disappointing."
"Billings guidance implying only 2% growth was below expectations and down from preliminary guidance of high-single-digit growth," Jaluria wrote in an investor note. "While revenue guidance was more in-line, if not slightly above, billings is the more important leading indicator and revenue growth is likely to follow suit in [fiscal 2025]."
Jefferies analyst Brent Thill, who has a buy rating and per-share price target of $80 on DocuSign (DOCU), said Thygesen is likely to focus more on self-serve motion, which could create "near-term turbulence," but ultimately higher margins.
"Given the [go-to-market] turbulence, we believe [international] growth could be under pressure for the next few [quarters]," Thill explained.
William Blair analyst Jake Roberge, who has a market perform rating on DocuSign (DOCU), noted that the fourth-quarter results were "strong," but the company is still making progress on going to market and that the second round of layoffs (announced in February) have finally got the company to the right size.
"While it is still early days, DocuSign is making progress on its go-to-market initiatives, which include a revamped self-service motion, more intuitive product bundling, and a focus on more enterprise licensing agreements," Roberge wrote in an investor note.
Last month, investment firm UBS downgraded DocuSign (DOCU), citing the strong rally in the stock since December.