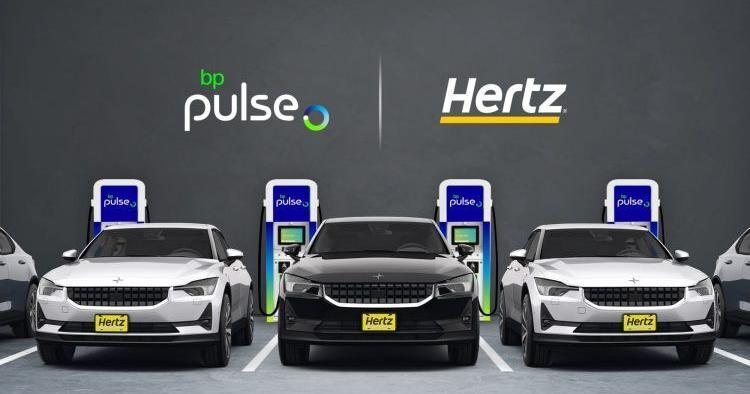 BP plans to invest $1 billion through 2030 to install electric vehicle charging stations across the United States.
The London-based energy giant, whose largest refinery is in Whiting, said the investment is "another step toward delivering on its transformation to an integrated energy company." It plans to partner with Hertz to bring fast-charging electric vehicle points to cities including Chicago, Atlanta, Austin, Boston, Denver, Houston, Miami, New York City, Orlando, Phoenix, San Francisco and Washington D.C.
The infrastructure rollout is meant to help the transition to electric vehicles as the federal government is pushing for as many as 50% of new vehicles produced to be electric by 2030.
The project will include gigahubs, or large-scale, fast-charging hubs such as one BP and Hertz are building together at the Los Angeles International Airport. Rideshare gig workers, taxi drivers, car rental customers and other motorists will be able to use them at high-traffic spots such as airports to get a quick charge.
"This is about more, faster. We're bringing more, fast-charging options to more Americans for faster EV adoption," said Dave Lawler, chairman and president of BP America. "Working alongside Hertz, we're excited to drive the future of mobility."
BP has identified five "transition growth engines" that include bioenergy, hydrogen, convenience, renewables and electric vehicle charging. It's looking to direct half its global investment to those areas by 2030.
Since 2005, BP has invested more than $140 billion in the United States, where it has its largest economic footprint in the world.
The energy company has 22,000 electric vehicle charging stations worldwide. It aims to have 100,000 more by 2030 as it aims to become net zero by 2050.
"As Hertz builds the largest EV rental fleet in North America, it is essential that our millions of customers —  including leisure and business travelers, rideshare drivers and corporate clients — have access to a national network of reliable, fast chargers," said Stephen Scherr, Hertz chair and CEO. "We are excited to be working with BP to build out charging at Hertz locations across the country and to leverage telematic insights from the Hertz fleet to ensure that charging is located at the places where our customers need it most."
Hertz has tens of thousands of electric vehicles for rent at more than 750 locations in 38 states. It aims to make a quarter of its fleet electric by 2024 in a bid to help "accelerate the mainstream adoption of EVs."