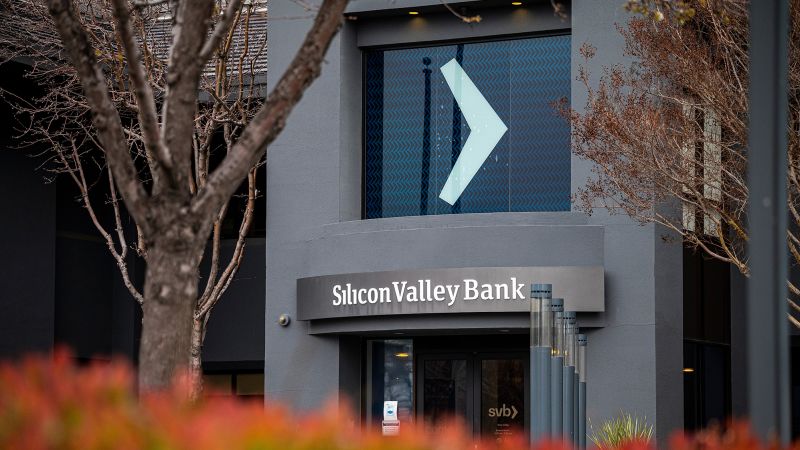 SVB Financial Group is reportedly exploring a sale after selling billions of dollars of assets to make its customers whole and sparking a panic on Wall Street this week.
Reuters and CNBC, citing people familiar with the matter, reported that the financially strapped bank was considering a potential sale to a larger institution. SVB didn't immediately respond to CNN's request for comment.
Shares of SVB

(SIVB) were halted Friday morning after falling more than 60% in premarket trading. The stock tumbled 60% Thursday after the bank said it had to sell a portfolio of US Treasuries and $1.75 billion in shares at a loss to cover rapidly declining customer deposits — essentially facing a run on the bank.
SVB, a relatively unknown bank outside of Silicon Valley, lends to higher-risk tech startups that have recently been hurt by higher interest rates and dwindling venture capital.
The bank partners with nearly half of all venture-backed tech and health care companies in the United States, many of which pulled deposits out of the bank as rising interest rates raised concern that the bank may not be able to get all its customers' money back if they pulled their deposits en masse.
The crisis at SVB prompted Wall Street billionaire hedge fund manager Bill Ackman to compare the situation to Bear Stearns, the first bank to collapse at the start of the 2007-2008 global financial crisis. Ackman said in a series of tweets that SVB may require a bailout and called on the US government to to step in to protect customers' deposits and prevent damage to the bank's tech startup clients.
"The risk of failure and deposit losses here is that the next, least well-capitalized bank races a run and fails and the dominoes continue to fall," Ackman wrote.
Widespread contagion fears appeared to calm slightly Friday: Although SVB brought down mainstream bank stocks right along with it Thursday, most other bank stocks stabilized. Still, investors fear SVB's surprise deposit crisis may not be a one-off event.
Several other bank stocks were halted Friday, including First Republic, PacWest Bancorp, and Signature Bank.
SVB's sudden fall mirrored other risky bets that have gotten exposed in the past year's market turmoil. Crypto-focused lender Silvergate said Wednesday it is winding down operations and will liquidate the bank after being financially pummeled by turmoil in digital assets.
When interest rates were near zero, large banks scooped up Treasuries and bonds. Now, as the Federal Reserve hikes rates to fight inflation, those bonds are worth much less and banks are sitting on the losses. For SVB, which said it is partnered with nearly half of all venture-backed tech and health care companies, cash-hungry startups are feeling the pinch.
The Treasury Department told CNN on Friday it's monitoring the situation as financial pressure at the parent of Silicon Valley Bank raise concerns about the broader health of America's banks.
"Treasury is aware of recent developments. The Department will remain in touch with regulators as appropriate," a Treasury spokesperson said in a statement.
– CNN's Matt Egan contributed to this report