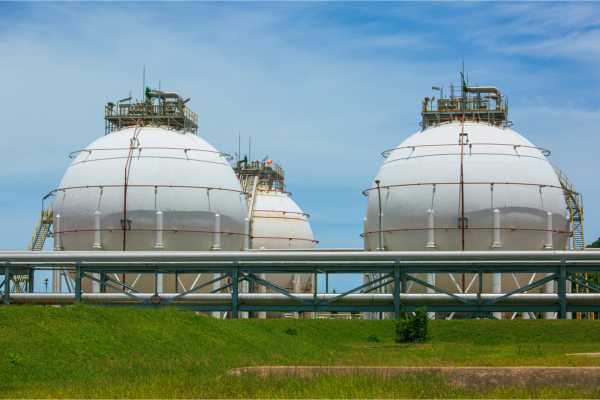 Natural gas futures retreated after the government reported a drawdown in its weekly storage report that fell in line with expectations. With no major surprise in the announcement, the market failed to hold on to earlier gains while eventually falling into the close.
"Quite the neutral number in my opinion," Enelyst managing direction Het Shah said on the online energy chat. "In fact, it's more in line with reports from early February before the coal-to-gas switching really kicked in."
At 20:13 GMT, April natural gas futures are trading $2.490, down $0.061 or -2.39%. The United States Natural Gas Fund ETF (UNG) is at $8.24, down $0.34 or -4.02%.
US Energy Information Administration (EIA) Weekly Storage Report
On Thursday, the EIA reported an 84 Bcf withdrawal from natural gas storage inventories for the week ending March 3.
Natural Gas Intelligence (NGI) reported, "Ahead of the EIA report, a Reuters survey of 17 analysts produced a range of withdrawal estimates from 61 Bcf to 95 Bcf, with a median of 79 Bcf.
Bloomberg's survey had a slightly tighter range of seven estimates that also resulted in a median draw of 79 Bcf.
A Wall Street Journal poll projected a draw of 81 Bcf based on the average forecast of 12 participants whole estimates ranged from decreases of 69 Bcf to 92 Bcf. NGI modeled a 62 Bcf pull."
For comparison, the EIA recorded a 126 Bcf decline for the same week last year, and the five-year average is a decline of 101 Bcf.
Total working gas in storage as of March 3 was 2,030 Bcf, which is 493 Bcf above year-ago levels and 359 Bcf above the five-year average, according to EIA.
Daily April Natural Gas Technical Analysis
The main trend is up according to the daily swing chart. A trade through $3.027 will signal a resumption of the uptrend. A move through $2.113 will change the main trend to down.
Resistance is a retracement zone at $2.685 to $2.819. Support is a retracement zone at $2.570 to $2.462.
Daily April Natural Gas Technical Forecast
Trader reaction to $2.462 is likely to determine the direction of the April natural gas futures contract into the close on Thursday.
Bearish Scenario
A sustained move under $2.462 will indicate the presence of sellers. This is a potential trigger point for an acceleration to the downside with $2.113 the next major downside target.
Bullish Scenario
A sustained move over $2.462 will signal the presence of buyers. This could lead to a labored rally with potential resistance layered at $2.570, $2.685 and $2.819.