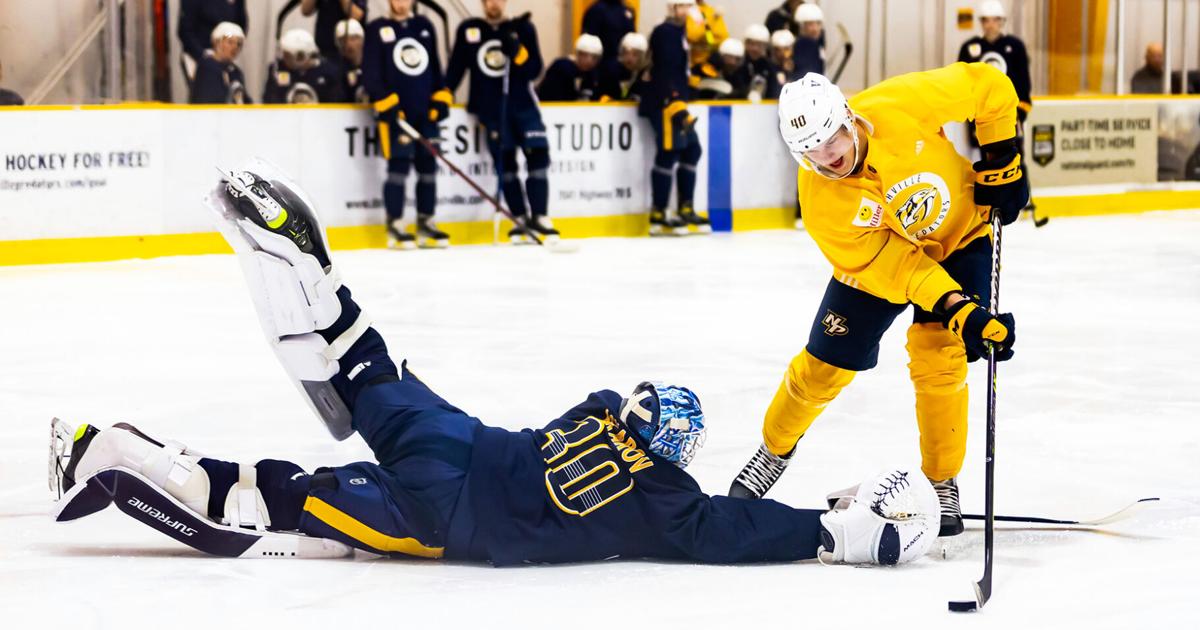 In David Poile's final trade deadline as Nashville Predators general manager, the 73-year-old executive did his best to stockpile an exorbitant amount of draft capital for GM-in-waiting Barry Trotz.
The prospect war chest Poile left Trotz isn't too shabby either, as the Predators had the No. 10 farm system in the NHL per The Athletic, and added at the deadline forward Reid Schaefer, the Edmonton Oilers No. 4-ranked prospect.
Below is a post-deadline look at Nashville's farm system, including a 1-10 ranking of the top prospects according to the Nashville Post.
1.     Yaroslav Askarov, G, Milwaukee Admirals
The 20-year-old former first-round pick has impressive in his first season playing in North America. Askarov got his first NHL start early in the season, and although he took the loss, he had a strong showing on short notice.
In the AHL, however, he's been one of the top goalies in the league, ranking fifth in wins (20), 13th in goals-against average (2.60) and 15th in save percentage (.910) with a league-high four assists and tied for the third-most shutouts (3). The 6-foot-3 Russian, who was an AHL All-Star in his first season as the Admirals' starting goalie, has earned rave reviews from many inside the organization and out, and it's clear that he's the future of the franchise between the pipes.
2.     Joakim Kemell, LW, JYP (Liiga)
Kemell has all the offensive tools the Predators have been lacking from their group of highly drafted forwards. He has quick hands and a top-notch hockey IQ, he can create shots with ease, he can skate in and out of defensive coverages, and he has finishing ability with a sneaky good wrist shot.
His numbers in Liiga this year are a little underwhelming — 12 goals, 15 points in 43 games — and he's still likely two years away from being NHL ready. However, Kemell has all the makings of a dangerous scoring top-six forward with potential to be a difference maker on the power play.
3.     Phil Tomasino, C, Nashville Predators
While not many (myself included) understood the decision to start Tomasino in Milwaukee this season after he played 76 NHL games the season before, the move seemed to do the 21-year-old some good. He was a near-point-per-game player with the Admirals, tallying 12 goals and 32 points in 38 games, and that success has carried over during his brief stint with the Preds.
Tomasino had two goals and six points in 10 games since being recalled last month before suffering an injury that's kept him out of the lineup recently. He's shown he can still be a force on the power play, and he's looked a lot better playing in Nashville's top six than he did last season playing mostly on the fourth line. Tomasino could be looking at regular top-six NHL minutes in 2023.
4.     Luke Evangelista, LW, Nashville Predators
Evangelista had a meteoric rise through Nashville's farm system following his 55-goal, 111-point season with the London Knights of the OHL last year. Following a promotion to Milwaukee, Evangelista didn't miss a beat, totaling nine goals and 41 points in 49 AHL games before being called up by the Predators.
Although some consider him undersized at 6-foot, 183 pounds, Evangelista has held his own in the NHL, notching two goals and three points in four games, underscored by a highlight reel hit on Evgeni Malkin in his NHL debut. It's unclear if Evangelista has a full-time role in the NHL next season, but he's made it clear over the last few weeks that it's going to be hard to keep him in the AHL for very long.
5.     Zachary L'Heureux, LW, Halifax Mooseheads (QMJHL)
L'Heureux's recent suspension definitely shines a negative light on the 19-year-old forward, but it also could serve as a wakeup call for the former first rounder who's been suspended nine times over the last three years.
Behavioral issues aside, L'Heureux was having a strong season for Halifax to the tune of 18 goals and 37 points in 24 games. Best-case scenario for all involved is L'Heureux continues that scoring pace post-suspension, and he keeps his nose clean the rest of the year.
6.     Fedor Svechkov, C, Spartak Moskva (KHL)
Of Nashville's top prospects, Svechkov is probably talked about the least. He has two goals and four points in 27 games in the KHL this season, and he's added another goal and seven points in the VHL (the KHL's minor league).
He's an everyday player in the KHL after moving from SKA Saint Petersburg to Spartak Moskva, averaging nearly 14 minutes per game and working on rounding out his two-way play. Not know as much of a scorer, Svechkov is one of the smarter defensive forwards in the KHL. He could be the ideal future anchor of the third line.
7.     Reid Schaefer, LW, Seattle Thunderbirds (WHL)
The strength of Schaefer's game is his willingness to drive the net — something the Predators, frankly, could use more of. At 6-foot-3 and 215 pounds, Schaefer could be a nice mix of James Neal and Patric Hornqvist as a power forward, crashing the net and chipping in the goals in the dirty areas that nobody on the current roster likes to go.
Schaefer has 26 goals and 52 points in 48 games in the WHL, but he also plays on a loaded Thunderbirds team that is projected to make a run in the postseason. He has the ability to play up and down the lineup, but likely settles in on the second or third line in Nashville.
8.     Juuso Parssinen, C, Nashville Predators
The reviews have been nothing but positive for Parssinen, who seemingly come out of nowhere to shoot up from seventh-round draft pick to one of the first call ups by Nashville this year. 
The 22-year-old center had two goals and nine points in 10 games with the Admirals before being recalled by Nashville in mid-November. In the 42 games since, he's totaled five goals and 23 points while proving he can center a line in the top six just as well as he can anywhere else. Filip Forsberg said it best: "He looks like he's been doing this for 10 years."
9.     Egor Afanasyev, LW, Milwaukee Admirals
Afanasyev appears to be on the doorstep of earning a call up by the Predators sometime in the near future. The 22-year-old Russian was told by the Admirals coaching staff last season to learn to play with more of an edge. He did just that, rolling out a faster, more aggressive style of play for much of the 2021-22 season.
This year, Afanasyev has focused more on rounding out the offensive part of his game, which he's done a solid job of, tallying 13 goals and 26 points in 55 games. At 6-foot-4 and 212 pounds, Afanasyev is a true two-way power forward. He could be playing in Nashville's bottom six next season.
10.  Ryan Ufko, D, University of Massachusetts
Although Nashville doesn't have a true blue-chip defensive prospect as it normally does, Ufko is the best of the farm system's blueline depth. Built in the mold of the stereotypical offensive defenseman the Predators are known for, Ufko has eight goals and 24 points in 32 games this season at UMass, and he's tallied 13 goals and 55 points across 69 games in two years in the NCAA.
Aside from the point production, Ufko sees the game in a way few defensemen do. He excels at both reading plays and puck possession. He makes quick decisions but is calculated and fluid in what he does with the puck and why he does it. His ceiling is likely as a second-pairing defenseman but it's more realistic he becomes a Ryan Ellis type on the third pairing.
Best of the rest:
11. Semyon Chistyakov, D, Avangard Omsk (KHL)
12. Adam Ingram, C, St. Cloud State University
13. Spencer Stastney, D, Milwaukee Admirals
14. Marc Del Gaizo, D, Milwaukee Admirals 
15. Alexander Campbell, C, Clarkson University 
16. Kasper Kulonummi, D, Tapparra (Liiga)
17. Jack Matier, D, Ottawa 67's (OHL)
18. Anton Olsson, D, Skelleftea AIK (SHL)
Follow Michael Gallagher on Twitter @MGsports_