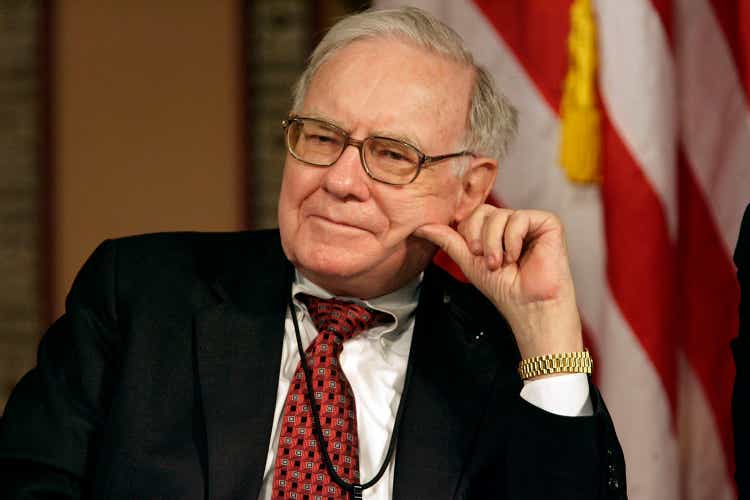 It's that time of year again — time for Berkshire Hathaway's (NYSE:BRK.B) (NYSE:BRK.A) famed CEO Warren Buffett to write his annual letter to the company's shareholders and for the broad-based company to disclose Q4 and full-year 2022 results. Both are scheduled to drop on Saturday, 7:00 AM Central time.
With businesses encompassing everything from candy to aerospace components to insurance, the company offers a microcosm of the U.S. economy. Add to that its massive equities portfolio, and Berkshire Hathaway (BRK.B) offers a view of the state of American business like no other company.
While the company is nowhere near considered a tech giant, its largest equity holding, Apple (AAPL), is. And though it doesn't provide health care services, it held 36M shares in DaVita Healthcare (DVA), which provides kidney dialysis services, as of Dec. 31, 2022.
With the company's 13F filing in mid-February, Berkshire's (BRK.B) top five stock holdings, accounting for ~76% of its portfolio, at the end of Q4 are already disclosed — Apple (AAPL), Bank of America (BAC), Chevron (CVX), Coca-Cola (KO), and American Express (AXP).
In years past, Warren Buffett has used the annual letter to map out plans for his Berkshire (BRK.B) shares after he's gone, and highlighted long-time investment managers Todd Combs and Ted Wechsler role in making equity investments. He has also extolled the advantages of acquiring stakes in well-run companies and urged shareholder to not focus on book value per share.
Shareholders will likely look for Buffett's assessment of not only how well the company is doing, but how well the U.S. economy is doing and what the company may be doing to prepare for a potential recession. In addition, they'll look for any clues on whether there are any big acquisitions on the horizon. In October, Berkshire (BRK.B) completed its $11.6B acquisition of specialty insurer Alleghany Corp.
In its quarterly earnings, investors are always interested is the amount of cash and short-term investments on Berkshire's (BRK.B) balance sheet and the amount of its own stock that the company repurchased. For points of reference, at Sept. 30, 2022, the company held ~$109.0B of cash and short-term securities. It bought back ~$1.05B of its common stock in Q3 2022.
In looking at the company's Q4 and 2022 results, CFRA analyst Cathy Seifert points to two areas she's interested in — Geico's underwriting performance and how well Berkshire's (BRK.B) reinsurance business is leveraging strength in renewal rates.
For Geico, she points out that the company posted a $1.4B pretax underwriting loss for the nine months ended Sept. 30, 2022 vs. $1.4B pretax operating profits in the year-ago period. What, if any, corrective actions is the company taking to remedy that? she asks.
In the reinsurance industry, CFRA estimates reinsurance net written premiums rose 12%-15% in 2022 and sees that rising to 13%-18% in 2023 as demand for reinsurance has been strong "and recent renewal rates have increased substantially."
Berkshire's stock portfolio value rose to ~$299B from $296B in Q4, pointed out SA contributor John Vincent in his analysis of Warren Buffett's portfolio.