Bruins
The Bruins have been linked to numerous trade targets, including Vladislav Gavrikov and Jakob Chychrun.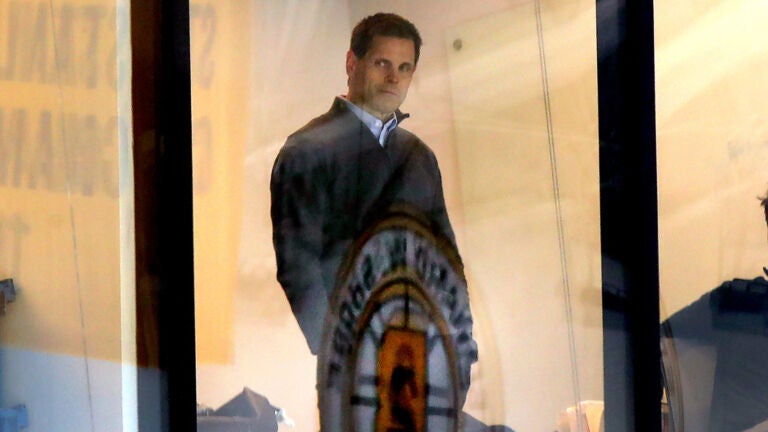 COMMENTARY 
The NHL trade deadline is a little more than a week away. But given all of the smoke surrounding Don Sweeney and the Bruins, it feels like Boston isn't waiting until March 3 to bolster an already dominant roster.
The feeding frenzy that emerges around the deadline is often a byproduct of numerous trade whispers, rumors, and outlandish narratives chumming the water before trades are inevitably struck.
The 2022-23 Bruins might have few flaws to address between now and next week. But even if Boston doesn't necessarily need a major addition to its lineup, that hasn't stopped numerous rumors and narratives from sprouting up over the last couple of days.
As the Bruins continue to weigh their options ahead of a potentially fruitful playoff run, let's dissect a few talking points circulating around Boston as of late.
The Bruins' defense has a "weak link" in their six-man unit 
Even a team playing at a record-setting pace like the Bruins is not satisfied with its current configuration. Not when there's an opportunity to add to this roster between now and March 3.
As such, it should come as little surprise that the Bruins have been linked to Coyotes star defenseman Jakob Chychrun. Even though prying him out of the Arizona desert would likely cost two first-round picks, a blue-chip prospect and potentially more, adding the talented blueliner would represent a clear upgrade to an already stout defensive unit.
But Chychrun is a special case when it comes to a potential top-pairing talent hitting the market with a digestible contract. Because beyond adding someone of Chychrun's capabilities, there aren't a lot of trade targets that represent an obvious upgrade to a Boston defense that ranks first in the NHL in goals against per game (2.05). 
Eeven if Boston does pull the trigger on a move to bring in a top-four option like Vladislav Gavrikov, it's far from a given that the 27-year-old Russian will leapfrog another starter on Boston's depth chart.
Hampus Lindholm and Charlie McAvoy are both premier talents capable of anchoring their own defensive pairings. Derek Forbort willingly welcomes the pain that comes with blocking pucks and killing penalities. Connor Clifton is not afraid to put opposing skaters on their heels … and topple them with bone-crunching checks.
Brandon Carlo and Matt Grzelcyk draw their fair share of detractors, but both blueliners have been far from detriments on a stingy B's defensive structure.
Carlo may not use his 6-foot-6 frame to inflict welts against opponents, but Carlo's shifts in the D-zone are often where opposing scoring chances go to die. Of the 180 NHL defensemen who have logged at least 500 minutes of 5v5 ice time this season, Carlo ranks 177th in offensive-zone faceoff percentage.
But even though Jim Montgomery barely hands Carlo favorable ice at the start of his shifts, the Bruins have still outscored opponents, 39-21, during Carlo's 5v5 reps. Add in his PK contributions, and Carlo is still a great asset on this roster.
Grzelcyk is a different case. The Charlestown native's size and playoff record has led to concerns about his ability to withstand the punishment that awaits in April and May. The case could be made that Boston needs to add depth in search of additional insurance for this defense.
But Grzelcyk's puck-moving prowess and transition talents are an invaluable part of Montogomery's offensive scheme. And even though Grzelcyk and his fellow BU teammate in McAvoy have put together video-game numbers together, Grzelcyk has not been dependent on McAvoy for success this season.
When McAvoy and Grzelcyk skate together, the Bruins have outscored opponents, 24-9, in their 419:49 of 5v5 ice time. But during the 404 minutes of 5v5 reps when Grzelcyk has been out on a shift without McAvoy, Boston is still holding a 23-8 edge in goals scored.
Add in the fact that the 29-year-old defenseman is projected to hit a new career-high with 30 points this season, and Grzelcyk isn't a player that you just toss aside on an already very good roster.
Singing the praises of Boston's current starting defensemen is not an indictment on reported trade targets like Gavrikov. Rather, it's a positive reflection on the roster that Boston has assembled.
Gavrikov can improve Boston, especially as part of a very versatile and effective seven-man unit. But there's no clear-cut avenue for someone of Gavrikov's obvious talents to bump one of the B's current starters out of the rotation.
Gavrikov's style of play is a missing ingredient on Bruins D corps
The Bruins may not have a true vacancy on their D corps. But if Boston is searching for some additional depth, you could make a compelling argument for Sweeney adding a physical equalizer to this roster.
The Stanley Cup playoffs is a war of attrition. And rolling out blue-line personnel capable of dishing out punishing hits comes in handy around that time of year. It's the reason why physical, stay-at-home defensemen are often coveted by contenders around the deadline, with teams like the Lightning and Panthers paying a premium to acquire assets like David Savard and Ben Chiarot.
Make no mistake, Gavrikov is a very solid defenseman who should be logging 20+ minutes on most contending rosters. But Gavrikov's physical profile (6-foot-3, 221 pounds) doesn't mean that the pending free agent is using that frame to truck over every skater gliding in his direction.
Unlike a depth option like Luke Schenn (an NHL-leading 258 hits this season), Gavrikov has recorded 56 hits in 52 games with the Blue Jackets. For those keeping track, Brandon Carlo has 94 hits over 52 games with Boston.
That's not to say that hits are the lone determinant that gauges a player's sandpaper style of play. But Gavrikov is an effective defenseman because he's cut from the same cloth as other dependable options like Carlo and Forbort.
Rather than bowl over opponents, Gavrikov is effective in his shifts because he uses his size, stick positioning and D-zone instincts to both keep skaters to the outside and clear pucks out of danger.
Gavrikov's ability to eat up minutes and shut down scoring chances under taxing D-zone starts makes him a very useful cog on many D corps. If Boston does bring him aboard, he can and will help this team.
For the Bruins, it all comes down to the reported asking price (three draft picks, including a first-rounder) and whether or not that steep cost justifies what would be a luxury add at an already loaded position. 
He's far from a net negative. But Gavrikov is the type of player whose value would be maximized on a team with a much more pressing need on the back end.
The Bruins have fiscal flexibility on the horizon
There's no doubt that Sweeney and the Bruins will need to get creative in order to add any NHLer to this roster.
Even though Gavrikov only accounts for a $2.8 million cap hit, Boston currently holds just $33,491 in cap space (per CapFriendly). As such, Boston likely needs to move a contract like Craig Smith's or Mike Reilly's to facilitate the move.
But even if Boston makes the money work and can add someone like Gavrikov, there's no guarantee that Boston has the means to extend him long-term given its future cap commitments.
That might seem like a stretch, considering Boston has eight contracts coming off the book this summer and close to $22 million in cap space this offseason. But Boston's fiscal surplus is expected to dry up in short order.
Be it David Pastrnak's new megadeal or the $4.5 million in bonus overages from Patrice Bergeron and David Krejci's deals that will land on next year's books, Boston doesn't have nearly as much wiggle room as one might expect.
Add in Sweeney potentially re-signing both pivots or having to ink more centers on the open market, and Boston could be wedged up against the cap ceiling when the time comes to sign someone like Gavrikov.
Look no further than Boston's current pursuit of Chychrun as a stark reminder of the cap crunch that awaits this summer. Chychrun's contract ($4.6 million annual cap hit through 2025) is the type of deal that Boston would seemingly prioritize as a way to win now and lock in a key cog for the future.
But in his latest 32 Thoughts column, Sportsnet's Elliotte Freidman said that he doesn't believe Boston is focused on Chychrun due to the B's "future cap issues." If Boston doesn't have the means to bring in a star player signed under $5 million per season, it seems unlikely that they can lock in Gavrikov to a new deal.
And if Gavrikov is indeed going to be a pure rental, it further justifies why Boston should be hesitant to give up three draft picks for him.
The Bruins would seriously entertain moving a goalie for the right price
Nope. Not going to happen.
For as much as the thought has been entertained across the radio waves, I can't see a scenario where Boston deals away a young netminder like Jeremy Swayman.
Yes, Linus Ullmark is a front-runner for the Vezina Trophy and is in line to earn the majority (if not all) of Boston's starts in the postseason. But Swayman has been stellar in his own right, posting an 8-1-3 record with a .937 save percentage in his last 12 outings.
And even if Swayman isn't Boston's top option, he's still an invaluable part of the team's success. Be it easing Ullmark's regular-season workload or even stepping into the B's net in case of injury/poor play, Swayman isn't a player you take off this roster — especially with so much at stake this season.
Having two netminders posting absurd totals and only counting $5.925 million against the cap is a tremendous luxury for Boston. But given the importance of the position, you don't subtract from this current arrangement.
And even if Swayman does net you a top player, you are likely running into the same cap-related headache we mentioned above. Boston will already need to do some juggling in order to sign Swayman to a new deal this summer. But it's easier to re-sign a restricted free agent, as opposed to extending whatever trade target you acquired by dealing your 24-year-old stud goalie.
Move right along.
Sign up for Bruins updates🏒
Get breaking news and analysis delivered to your inbox during hockey season.